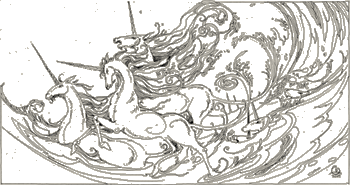 K N I G H T o f C U P S
The Unicorn is a child of the sea - born of foam and restless waves, surging with the wild abandon of the surf. The Knight of Cups is her companion on the eternal quest.
He is the knight of the Round Table on the grand quest for the Grail. He is the romantic who seeks where his heart and emotions lead. He is the artist and the musician and the poet whose eyes see into the unseen nether-realms of imagination. He is the idealist who will not let physical laws stop him from riding with reckless abandon across the wavetops on his journey.
::Details::