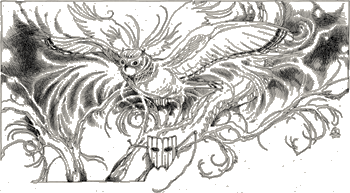 K I N G o f S W O R D S
Like the vertical sword he holds at the ready, he is a pillar of strength and morality. He holds power over life and death. He is a warrior king, sword always drawn and prepared to spring to action should the need arise. He carries through with his actions, following the path of truth that the blade lights for him. He is led on by the silent wisdom of the owl, and the shadowy ravens that trail him like Hugin and Mugin, Odin's twin ravens Thought and Memory. They fly away to seek out truths and bring their findings back to be whispered in his ear. The balance of night and day is embodied in those avian companions.
The shadows of the night descend upon his shoulders, a living mantle of porphyry, a color the ancient Greeks associated with royalty.
And the base of the throne is etched with da Vinci's Vetruvian Man, symbolic of the blend of art and science; of the symmetry in the human body, and in the whole of the universe.
::Details::

Original: Sold