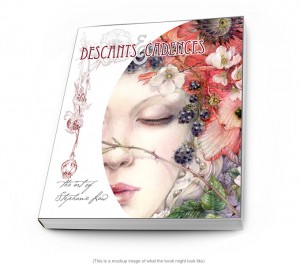 These past few months, I've been working on this. It's a new art book. Yay!
It has been about 4 years since my previous collected works volume "Between the Seams". In that interim, a LOT of art has happened, and a lot of twists and turns to my style and subject matter. A new book to reflect those changes is overdue, and will include pieces from Strange Dreams, my Magpie Series, the Stag Sonata Cycle, Insecta, and Descants and Cadences.
This new art book will be launched via crowdfunding on Kickstarter (tentative launch date is April 14th, and a funding period through to May 12th) because in addition to a standard Trade Edition I want to be able to create a Special Edition version that will hopefully be as much a piece of art as what it contains. I'm so excited about this project, and I hope I can infect you with some of the excitement as well!
If you want to keep informed about getting in on the kickstarter once it launches, please sign up for the mailing list for it here at descants.shadowscapes.com. You can also watch this Facebook Event Page.
As the countdown to April 14th approaches, I'll be posting a stream of sneak peeks to that Facebook page: pages from the book, cover designs, and exclusive offerings that will be a part of the kickstarter. You can help me with making some decisions for final colors for the cloth bound Special Edition too!
Here's a look at some of the pages: