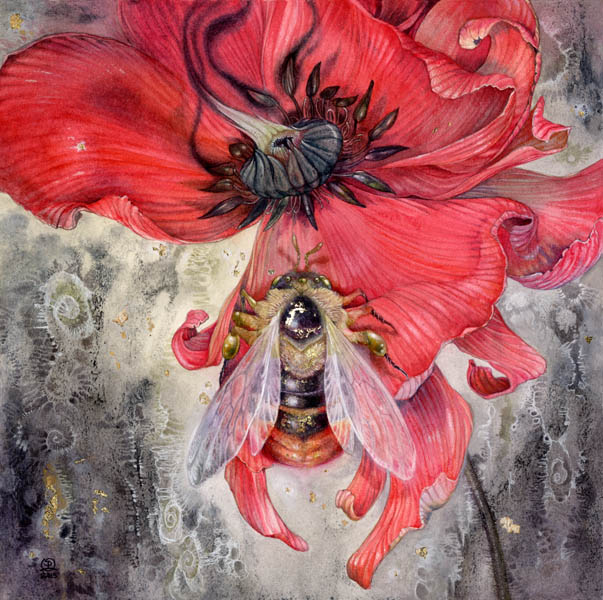 Bumblebee
10×10 inches (framed 17×17 inches)
watercolor & gold leaf
The bumblebee is a messenger from from the spirit/dream realms, and she imparts the secrets that thread through the world's pulse. She gathers that knowledge from flowers' breath.
Wisdom transmuted from seed by sunlight to blossom to pollen.
To golden honey that kisses your lips, caresses your throat.
* * *
Ever since I saw some red-tailed bumblebees when I was in Ontario this summer, I've been wanting to add one to my Insecta series.
This piece was created for the group show at Alexi Era Gallery, running from Nov 21st – Dec 31st, "Bestowed Upon Us". For a Collector's Preview, if you are interested in the original, please contact info@alexieragallery.com.
* * *
It's been a while since I've posted a lot of the progress photos and steps I go through for a painting, so here we go:
After the sketch is transferred onto the paper (I'm using Fabriano Artistico, hot press, 300 lb), I laid down a background initial texture with some watered down India ink. If you haven't seen it, you can check out my youtube video about this.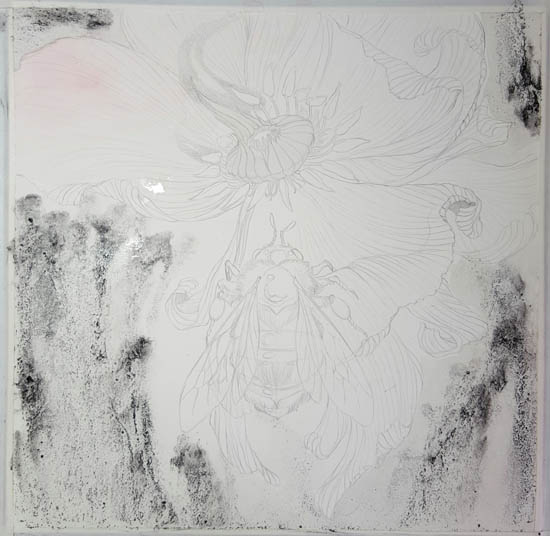 After that dried, I painted some very light washes with crimson and yellow tones. Most of the reds I use in this piece are Daniel Smith's Quinacrione Coral, Red, Pink, mixed with Winsor & Newton New Gamboge. Some places where I thought the ink texture was too dark, I put a diluted wash of some Daniel Smith watercolor ground. I like a heavily textured and distressed look to these backgrounds, so the physical texture of doing so does not bother me; in fact it adds to the effects I'm after.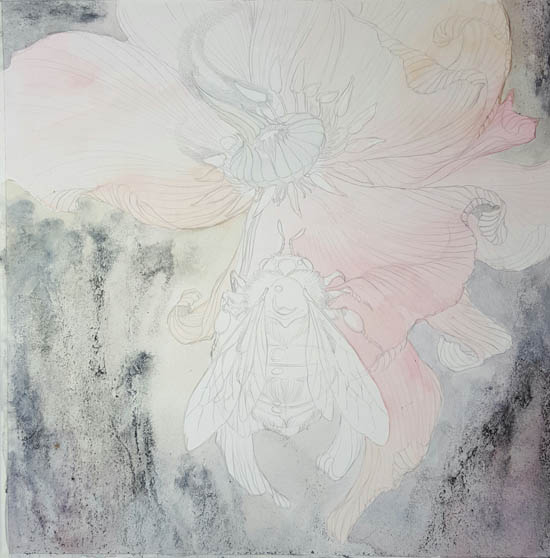 Here's the "finding images in the clouds" part of the process. After those background texture and glazing layers dried, I began to slowly pick out the aspects of the texture that I liked and to model them by pushing darker areas further into shadow, and lighter areas out with a white gel pen. By slowly working my way across the background chaos in this way, I coaxed out a more sculpted look to it.
I also added little flakes of gold leaf in, affixing it with more watercolor ground.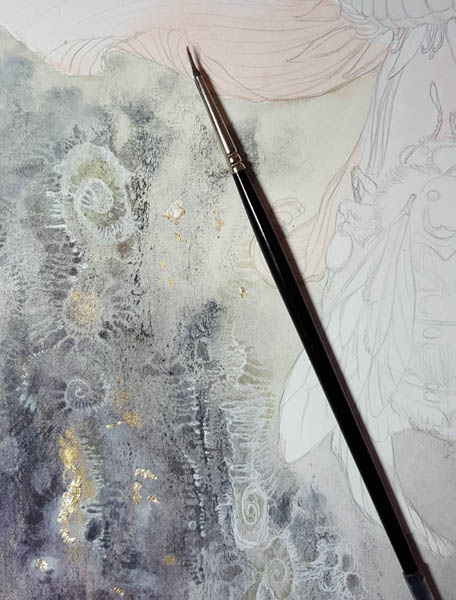 Once I was happy with the background, I started moving onto the foreground, and the petals of the flower. I started with glazes of reds as an underlayer.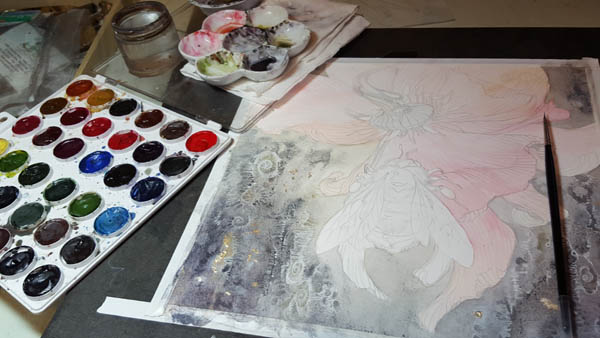 And as those glazes dried, added successively more layers to achieve the color intensity I wanted.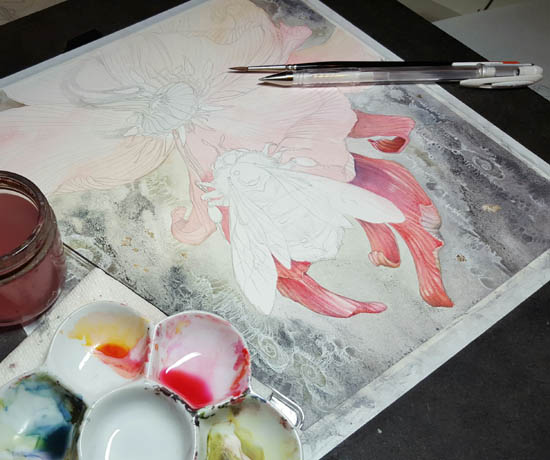 Moving all the way around the flower. Aside from the large background washes at the beginning, there's virtually no downtime for me when working with watercolors, waiting for things to dry. I can always shift my focus on to the next area, when waiting for one part to dry.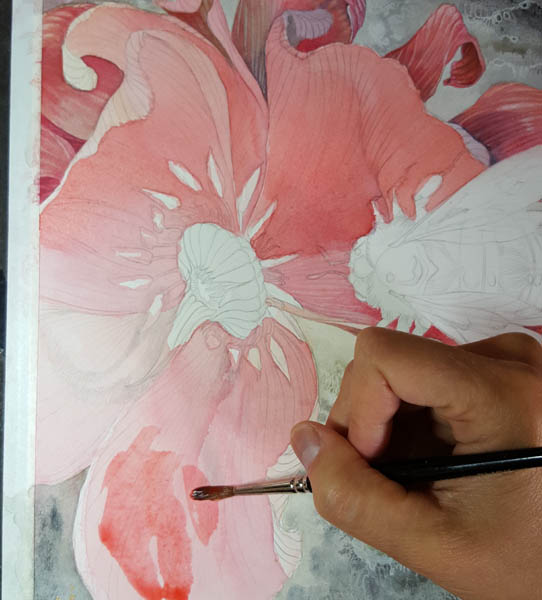 You can see I started in the lower petals and moved counter clockwise, gradually enhancing the depth of color, and the details of the petals, and doing small bits on the next petals as I waited for the primary area I was working on to dry. So there's a bit of back and forth that happens.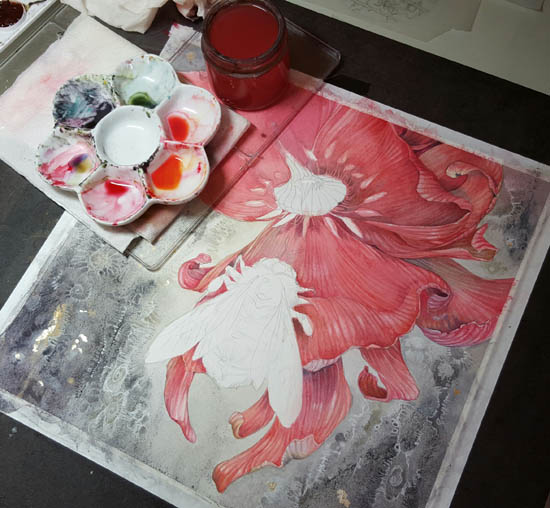 The smoky tendril bits I drybrushed. It's a little bit like working with a very delicate tipped colored pencil, as the brush is just wet enough to be able to transfer pigment. Afterwards, I smoothed it out with washes of clear water.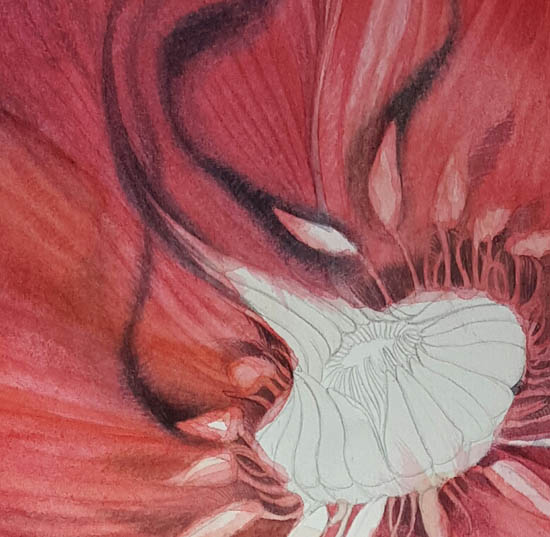 The center of the flower, base layer wash.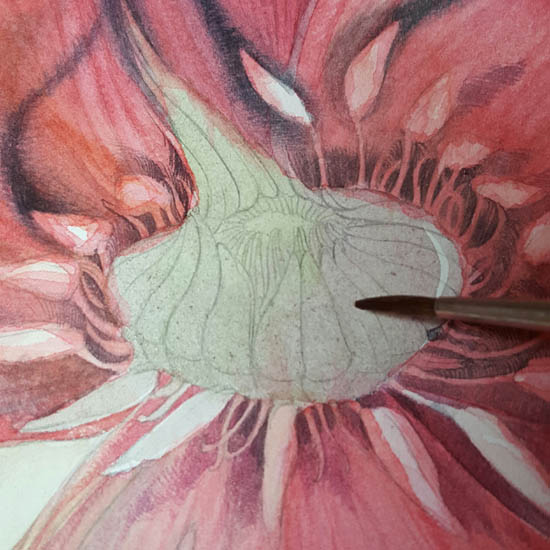 And as with the petals, slowly working my way around, shifting focus from one area to the next when waiting for things to dry.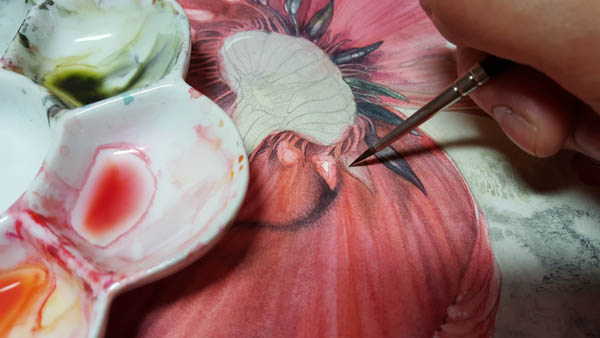 And finally the bee. Sometimes it's really hard to wait for the end to do the main focus of the painting, and I get really impatient with wanting to start it NOW!
I put some gold leaf on, and then sort of encrusted it a bit with watercolor ground for texture, and also so that I could paint on top.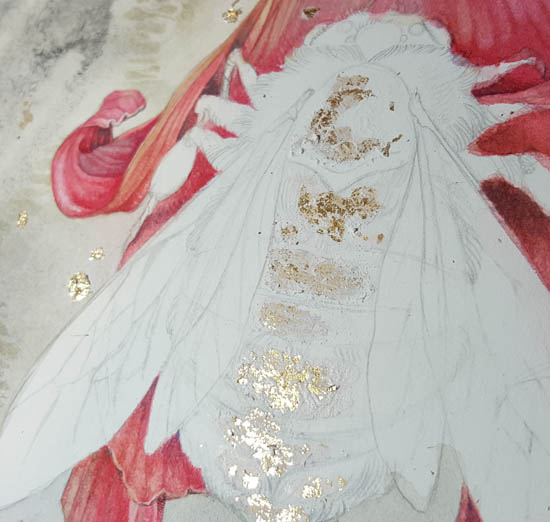 Like this.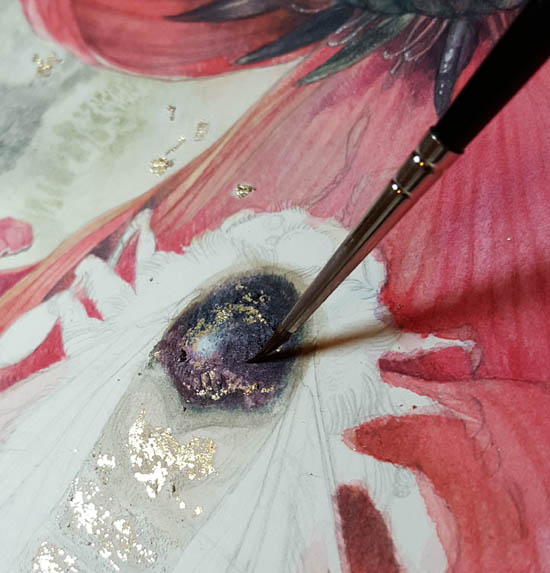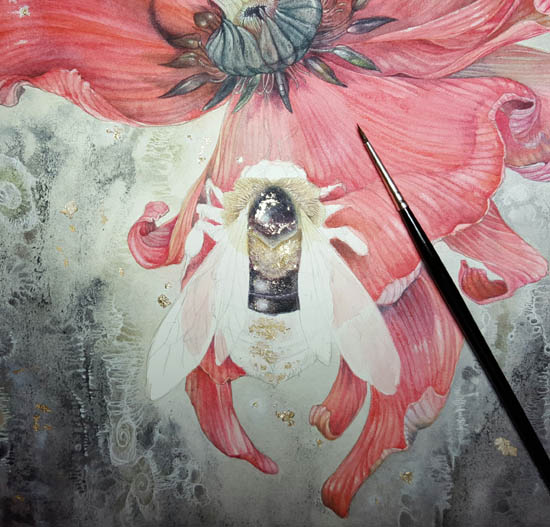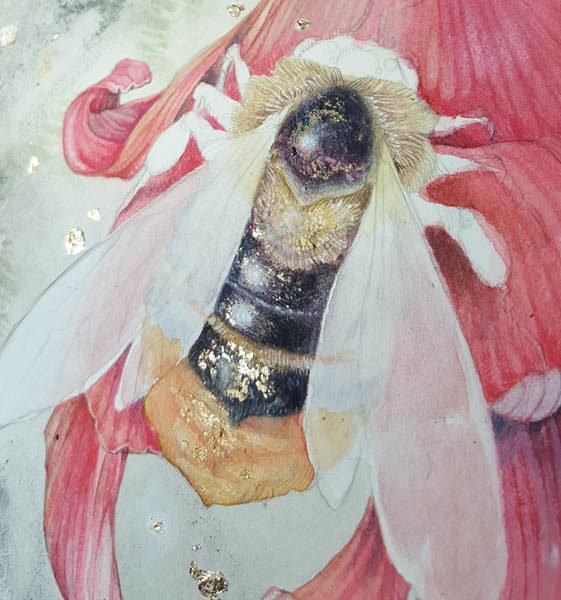 Transparency of the wings was tricky. I let little bits of the colors underneath them show through.
And then, once I finished painting, I wasn't quite done with the image, because to get a good digital capture, it required photographing and some digital manipulation to optimize the reflective and textural elements. Check out my other blog post on that topic here.