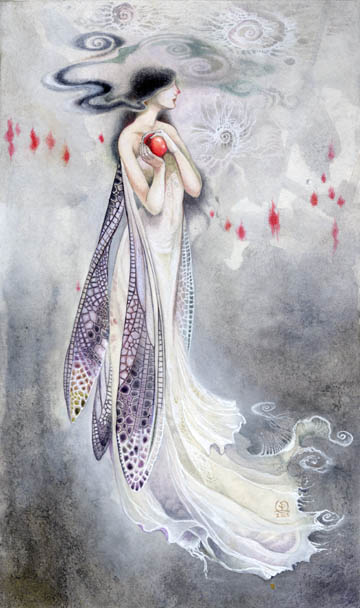 Sylph
size: 5.5×10 inches
medium: watercolor
prints ($16.95)  available -here-
First chance I have had in many months to just do a piece for no other reason than "because".  Now that everything is shipped out for Immortal Ephemera, and the next few deadlines are at least a month out on the horizon.
Here's a little sketch that happened the other night.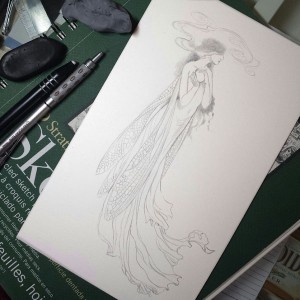 I wanted to go for more muted colors. Not the crazy bright blues, greens, and reds in the recent paintings.
Started with my india ink texture techniques for the background. Layered a thin glaze of Daniel Smith watercolor ground on top, to set the ink a little bit, and so that I could paint more layers on top without disturbing the textures.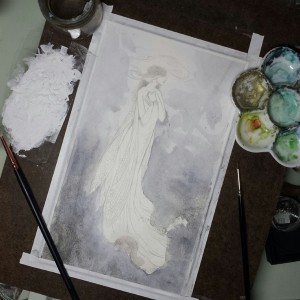 I never get tired of painting white. The subtle shadows and hues are just very satisfying to me. After the background was mostly complete, I started on the dress, painting light glazes for shadows in the folds, and pulling some very sharp highlights out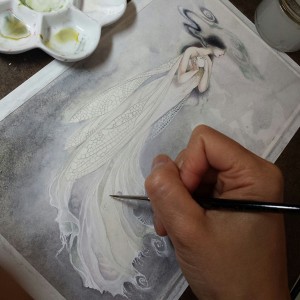 And the wings as I mentioned in a previous technique post. Keeping to the more muted color scheme this time. Then, because I wanted something to contrast all the black/grey/violet, I added a splash of bright red for the fruit. It still needed something else, so on a whim, I added the red flickers-flares-wisps in the background.